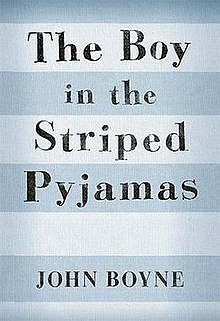 The Boy In The Striped Pyjamas
We found
6

free papers on The Boy In The Striped Pyjamas
The Boy In The Striped Pyjamas
This story is about a young main character who's name is Bruno, he is a young boy who is the age of nine and is a German. This story gives an impression to the reader of how life for the Jewish people must have been during the Second World War. The author of this story…
genre
Novel,Children's literature,Historical Fiction,Fable,historical novel,Historical drama
release date
November 7, 2008 (USA)
description
During World War II, 8-year-old Bruno (Asa Butterfield) and his family leave Berlin to take up residence near the concentration camp where his father (David Thewlis) has just become commandant. Unhappy and lonely, he wanders out behind his house one day and finds Shmuel (Jack Scanlon), a Jewish boy of his age. Though the barbed-wire fence of the camp separates them, the boys begin a forbidden friendship, oblivious to the real nature of their surroundings.… More
cast
Ralf
quotations

"Their lost voices must continue to be heard." "And who decided which people wore striped pajamas and which people wore the uniforms?" "And were they really so different?" "Nothing, thought Bruno, not even the insects, would ever choose to stay at Out-With."

information

Director: Mark Herman

Starring: Asa Butterfield; Jack Scanlon; Vera Farmiga; David Thewlis; Amber Beattie; Rupert Friend; David Hayman

Adapted from: The Boy in the Striped Pyjamas

Music by: James Horner

Box office: $44.1 million
Frequently Asked Questions about The Boy In The Striped Pyjamas
Don't hesitate to contact us. We are ready to help you 24/7
How does Bruno show innocence?
Bruno is innocent because he is sheltered by his parents and has no idea what is going on in the world around him. Shmuel is innocent because he was going to a prison that he did not deserve to be in.
What is the main message of the boy in the striped Pyjamas?
The message of the movie "The Boy in the Striped Pajamas" is an important one: Children and adults alike should know of the horrors of the Holocaust, and never forget. This very unsubtle movie's heart is in the right place; its art, unfortunately, isn't, says movie critic Moira Macdonald.