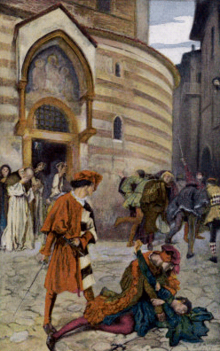 Mercutio
We found
18

free papers on Mercutio
Mercutio
Romeo And Juliet
The Tragedy of Romeo and Juliet It seemed to be the makings of a perfect love story. Two mortal enemies, foes by birth, fall in love unbeknownst of each other's identities, and manage to keep that love even after the shocking discovery. Afterwards, they fall even deeper for one another, and engage in secret assignations,…
Show More
Frequently Asked Questions about Mercutio
Don't hesitate to contact us. We are ready to help you 24/7
How would you describe Mercutio?
Mercutio was a loyal best friend to the death. He was witty, funny, hotheaded, and perhaps even a bit crude. Romeo was a romantic, while Mercutio did not believe in the idea of true love. It was his loyalty that killed him in the end.
What is Mercutio's famous line?
Mercutio : If love be rough with you, be rough with love. Prick love for pricking and you beat love down.
What makes Mercutio a memorable character?
Although he died early on, Mercutio spent his time entertaining the audience with every act and word. Throughout Romeo and Juliet, Mercutio displays notable acts of witty humor, loyalty and devotion to Romeo, as well as hot-headed rash behavior, which stick with the reader, even after his death.
Why is Mercutio important?
One secondary character, Mercutio, is essential to the play. Mercutio is the Prince's kinsman, but more importantly, he is Romeo's friend and confidant. Mercutio's concern is always for Romeo and for peace between the two families, the Capulets and the Montagues. Subsequently, a chain of misery takes place and the whole play becomes a tragedy. Perhaps in some aspects, Mercutio is also the symbol of energy and delight. When Mercutio is about to take his last breath, he says that "A plague o' both your houses.