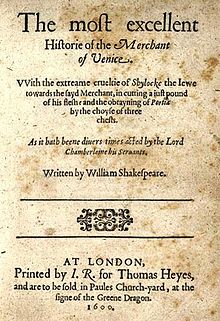 The Merchant of Venice
We found
23

free papers on The Merchant of Venice
Court Room Scandal Belmont Lady gets down and Dirty in Venice Portia, Lady from Belmont, always seemed like a sweet girl, always behaved the way her father wanted her too. Obviously her father's death has caused some changes as recently Portia has taken some extreme risks to save her love Bassanio. Bassanio is Portia's most…
Show More
genre
Shakespearean comedy
originally published
1600
description
The Merchant of Venice is a 16th-century play written by William Shakespeare in which a merchant in Venice named Antonio defaults on a large loan provided by a Jewish moneylender, Shylock. It is believed to have been written between 1596 and 1599.
setting
Venice, 16th century
characters
Shylock, Portia, Bassanio, Antonio, Jessica, Salarino, Prince of Morocco, Gratiano
tone
The overall tone of The Merchant of Venice is ambiguous, split between despair and celebration, seriousness and playfulness.,
information

Playwright: William Shakespeare

Subject: Debt

Series: First Folio

Contract: In Shakespeare's play The Merchant of Venice, Shylock and Antonio make a contract in which Antonio will lose a pound of his flesh if he does not pay back money borrowed for Bassanio. The two men verbally solidify the bond and Shylock takes the contract to the notary. … Shylock asserts, "I stand for judgment"

Ring: Rings. In The Merchant of Venice rings represent love and commitment between partners. For example, when they agree to marry, Portia gives Bassanio a ring that she says represents their bond of love. She cautions him that if he loses the ring or gives it away, that will represent the destruction of their love.,

Location: The Merchant of Venice is set in Italy in the sixteenth century, mainly in Venice. At that time, Venice was an independent city-state.,
Frequently Asked Questions about The Merchant of Venice
Don't hesitate to contact us. We are ready to help you 24/7
How is mercy shown in The Merchant of Venice essay?
Portia speaks on behalf of mercy, arguing that we must always forgive one another because we are constantly hoping for our own share of forgiveness from an all-knowing God. Likewise, the Duke demonstrates the virtues of mercy when he ignores the letter of the law and waves away his right to take Shylock's life.
What is the summary of Merchant of Venice?
Antonio, an antisemitic merchant, takes a loan from the Jew Shylock to help his friend to court Portia. Antonio can't repay the loan, and without mercy, Shylock demands a pound of his flesh. The heiress Portia, now the wife of Antonio's friend, dresses as a lawyer and saves Antonio.
What is the theme in The Merchant of Venice?
The main theme of The Merchant of Venice is the conflict between self interest and love. On the surface level, the major difference between Shylock the Jew and the Christian characters of the play is their level of compassion.