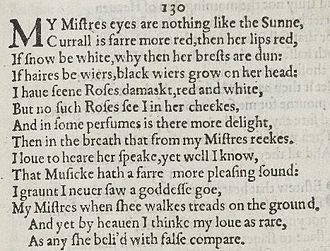 Sonnet 130
We found
2

free papers on Sonnet 130
Rossetti conveys a message about an abuse of power in the poem "Cousin Kate". The "Lord" entices and tempts the narrator to come to his luxurious "palace home". The use of the word "lured" creates a sense of foreboding, emphasizing his authoritative position. Through his charm and flattery, he manages to seduce the narrator and…
In this slightly odd sonnet, he compares his beloved to everything under the sun. This was a typical gesture. He makes her seem almost unlovable, but then one sees that to him, her voice is music and everything about her is wonderful. She tops any goddess in her mortal beauty and approachability. Sonnet 130 is…
Frequently Asked Questions about Sonnet 130
Don't hesitate to contact us. We are ready to help you 24/7
What is Shakespeare making fun of in Sonnet 130?
The first line in "Sonnet 130" says this, "My mistress' eyes are nothing like the sun" (Shakespeare 1). ... In this poem, however, Shakespeare seems to be making fun of the blazon form by showing that his mistress is nothing like the sun.
What is the conclusion of Sonnet 130?
The speaker describes the eyes of the woman he loves, noting that they are not like the sun. He then compares the color of her lips to that of coral, a reddish-pink, concluding that her lips are much less red.
What is the message in Sonnet 130?
Sonnet 130 is a kind of inverted love poem. It implies that the woman is very beautiful indeed, but suggests that it is important for this poet to view the woman he loves realistically. False or indeed "poetical" metaphors, conventional exaggerations about a woman's beauty, will not do in this case.
Why is Sonnet 130 a satire?
"This sonnet plays with poetic conventions in which, for example, the mistress's eyes are compared with the sun, her lips with coral, and her cheeks with roses. His mistress, says the poet, is nothing like this conventional image, but is as lovely as any woman".