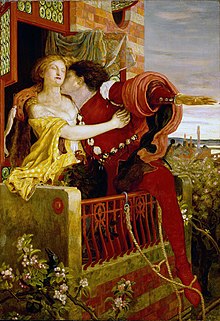 Romeo And Juliet Page 21
We found
208

free papers on Romeo And Juliet
Mercutio
Romeo And Juliet
A foil character contrasts the personalities of another character, which particularly enlightens certain characteristics of the individual. This element portrays these characteristics in an obvious manner, as it benefits the reader or audience. By showing the characteristics of one, it directly heightens the character traits of the other, creating a foil illustration of an individual….
Show More
date
Romeo and Juliet can be plausibly dated to 1595. Shakespeare must have written the play between 159 1 and 1596. The earliest date is considered to be too early, because of Shakespeare's writing style in the play.,
genre
Tragedy,Romance
originally published
1597
description
Romeo and Juliet is a tragedy written by William Shakespeare early in his career about two young Italian star-crossed lovers whose deaths ultimately reconcile their feuding families. It was among Shakespeare's most popular plays during his lifetime and, along with Hamlet, is one of his most frequently performed plays.
setting
Italy (Verona and Mantua)
characters
Romeo, Juliet, Tybalt, Mercutio, Friar Laurence, Benvolio, Capulet, Count Paris
quotations

" Parting is such sweet sorrow." — " But soft, what light through yonder window breaks? " Do you bite your thumb at us, sir?" — " What, drawn, and talk of peace? " My only love sprung from my only hate!" — " " ","My bounty is as boundless as the sea, "Don't waste your love on somebody, who doesn't value it." "thus with a kiss I die" "Good night, good night! "Did my heart love till now? "For never was a story of more woe than this of Juliet and her Romeo."

information

Playwright: William Shakespeare

Lyricist: William Shakespeare

Adapted from: The Tragical History of Romeus and Juliet

Adaptations: Romeo + Juliet (1996), Romeo and Juliet (2013), Romeo and Juliet (1968)

Family: In Romeo and Juliet, Shakespeare presents two families to the audience: the Montagues and the Capulets. These two families, despite their similarities, despise each other and continually battle. The conflict between the two families is almost presented to be natural until Romeo Montague and Juliet Capulet fall in love.,

Plot: Romeo and Juliet Summary. An age-old vendetta between two powerful families erupts into bloodshed. A group of masked Montagues risk further conflict by gatecrashing a Capulet party. A young lovesick Romeo Montague falls instantly in love with Juliet CapuletJuliet CapuletJuliet Capulet (Italian: Giulietta Capuleti) is the female protagonist in William Shakespeare's romantic tragedy Romeo and Juliet. A 13-year-old girl, Juliet is the only daughter of the patriarch of the House of Capulet.